Recently, I listened to "A Pair O' Docs" on the
radio.
The theme was regarding the current health care issues we face as a nation and ways in which people are opening up to alternative medicines and holistic treatments. However, at one point during the show, the hosts were sidetracked and began talking about pesticides and the detrimental effects they have upon declining bird populations--which isn't actually a new subject (remember DDT), but one that has been proven as being a leading cause of this tragedy.
The Docs stated that although America has now outlawed some of the chemicals that are most harmful to humans and the environment, Latin American countries have drastically increased the use of these U.S. banned substances. According to
The Independent
,
Testing by individual EU countries and the US Food and Drug Administration reveals that fruits and vegetables imported from Latin America are three and sometimes four times as likely to violate basic standards for pesticide residues.
What's more, is that pesticide usage in Latin American Countries has increased fivefold since the 80's.
But why should that really concern you and me since we don't live there? Believe it or not, we Americans are the very people who consume the majority of conventionally grown fruits and veggies from Latin American countries. We are also the people that demand our "out of season" fruits and vegetables to be available in bountiful supply year round. Which means that a large quantity of warm weather produce grown down south is drenched heavily in dangerous pesticides and then shipped right back to us. Thus, in reality, we are actually munching on foods contaminated with the very chemicals we have banned in the first place....
So, if you would still rather spend a few bucks less on conventionally grown produce as opposed to paying more for quality organics, and if you don't quite understand how buying products that are grown using pesticides adversely affects your own health and/or the health of your family, or if saving a few dollars did not somehow negatively impact the many farm workers struggling to make a living in the first place--there is yet another important side to this topic that one may not ever stop to consider--
the birds
!
That brings me right back to the Docs' radio broadcast discussion about conventionally grown produce, pesticide usage and birds. Did you know that there are three major species of birds, one of which is the Songbird, that are being found at a rate of approximately 25 dead per acre, across Latin American Farms? This count does not include the even greater number of birds who do not die on the farmlands, but instead become dazed and disoriented and cannot successfully reproduce. These bird populations are declining at an alarming rate and the underlying cause of this is basically our own
self-centered consumer choices
.
The Docs on the radio show made a plea to the listeners which went something like this...
"If you do not care about your own health, please stop and think about the health and
livelihood
of all other earthly creatures who are dying unnecessary deaths." They also asked, "Even if you choose not to purchase all organics, please at least stop buying these top five conventionally grown bird killers!" They are listed here: Strawberries, Bananas, Melons, Tomatoes, & Beans. So now do you know what all five of these have in common??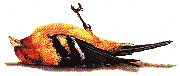 A Continuing Tragedy
65,000,000 birds are killed each and every year by pesticides. Birds eat sprayed bugs and die themselves. We're killing off one of our best allies. When the birds are gone the insects will really take over. (Bird statistics herein are from researchers at Cornell University, Ithaca, NY)